My Unconditional Devotion To A Lie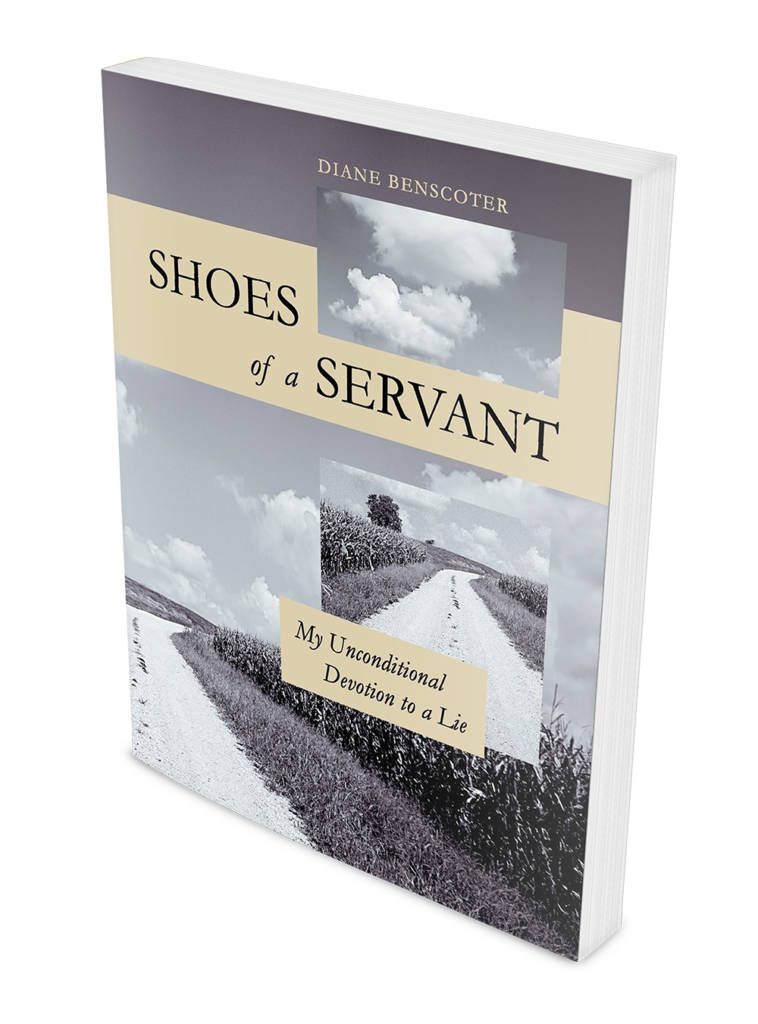 In Shoes of a Servant Benscoter weaves a gripping story of her servitude in the cult, the deprogramming staged by her desperate family, and her subsequent involvement in the underground world of deprogramming– culminating in her arrest for kidnapping. Often humorous and always heartbreaking , Benscoter's story carries the reader on a journey into the world of mental manipulation, providing compelling insight on how human vulnerabilities open the door for extremism.
"A must-read for those curious about cults and how people get into and stay in cults"
Diane Benscoter's epic journey in wearing the Shoes of a Servant reveals a mind lost to mind-controlling manipulators in a powerful cult, and then not only found but healed of the destructive memetic virus implanted in her youthful vulnerable spirit.
Diane grew up in the heartland of America, in a small Nebraska town with a loving family.  At 17, motivated by her idealism  and inspired by the lyrics of her favorite songs, she went in search of a way to end war.  She soon found easy answers to life's hard questions in the form of a religious cult, commonly known as the Moonies.
Benscoter tells a gripping story of her life in the cult, how her desperate family had her deprogrammed, how she then got involved in the underground world of deprogramming, while still recovering from her experience, and ultimately about her arrest for kidnapping.  The story is at times humorous and at other times heartbreaking.
Shoes of a Servant provides insight into mental manipulation and human vulnerability to extremism.  It challenges us to find ways to prevent dangerous memes from infecting those most at risk of falling prey to carefully packaged lies.
See What Others Are Saying…
"This book is told with such bone-deep authenticity, you quickly get entwined with the author's journey and struggle. You empathize with the parents' anguish and worry. You root for the author's freedom. The author never seemed bitter or melancholic, but gave a straight-forward honest rendering of the facts of her experiences."
"I found this book to be a fascinating window into how people get involved in cults and how subjective reality becomes distorted with in a almost imperceivable process -- and how circular thought can keep one trapped. It clearly shows how shared subjective reality can have a massive impact on how we experience life and live it."
"Diane's story is so vivid that I could picture her throughout all of the events she experienced while part of the Moonie cult. It is very thought provoking to get a glimpse into how minds can be altered and beliefs changed. Her story is relevant to what is happening in the world today. A great read!"
"This book offers a perspective that I couldn't imagine. Hearing from an ex-Moonie is a fascinating story of how when one feels lost, one becomes lost enough to drink the Koop aid."
Diane Benscoter has first-hand experience as a cult member and deprogrammer. She is an author and proud founder of Antidote.ngo, a nonprofit organization working to expose the dangers of misinformation and psychological manipulation.